TWO COOL® is the world's leading Cost of Ownership (COO) and Overall Equipment Efficiency (OEE) modeling software. With thousands of users on five different continents, its customer base ranges from the semiconductor industry to national labs and universities, industry leaders in photovoltaics, disk drives, defense, aerospace, nanotechnology, micro electro-mechanical systems (MEMS), flat panel displays (FPD), solid state lighting/light emitting diodes (SSL/LED), healthcare/medical devices, telecommunications, and engineering services. TWO COOL® provides a ready vehicle for communicating data between manufacturers and suppliers.
With the release of TWO COOL® version 4, the user is provided with a full suite of application choices. TC4 manufacturing types include wafer fab, assembly & packaging, mask & reticle manufacturing, board manufacturing, panel manufacturing, and a user defined mode. In all cases the user has complete control over the product name (e.g., cell), secondary unit of production (e.g., watt), English or metric units for floorspace, and equipment nomenclature (e.g., machine, equipment, system, tool, etc.).
Select from existing data templates or create custom terminology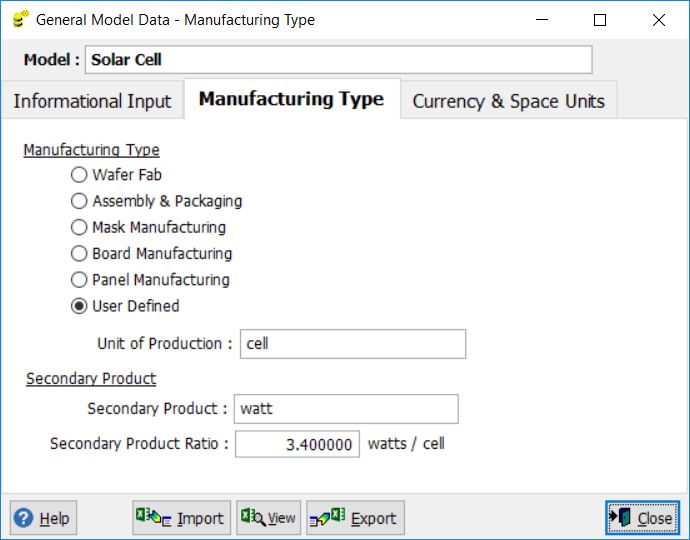 Complete user control over naming conventions and on-screen visuals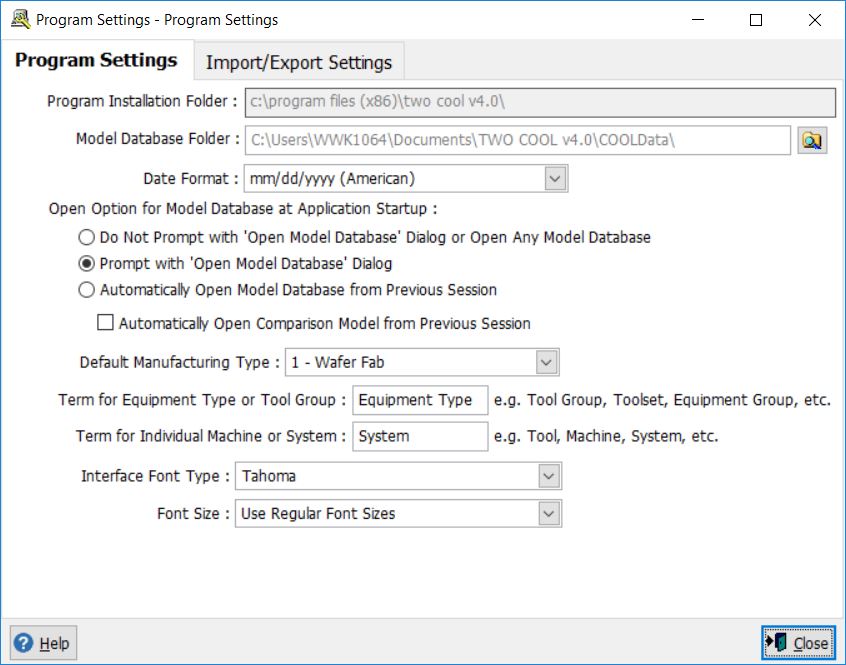 WAFER FABRICATION
TWO COOL® is the only standardized, commercial COO/OEE model used in front-end semiconductor manufacturing. How powerful is TWO COOL® for Wafer Fab? A customer used TWO COOL® to optimize preventative maintenance procedures for a key equipment set in their factories worldwide and reported over $20 million in annual cost savings.
Wafer fab specific enhancements include analysis of defect limited yield and estimations for exposure equipment throughput and die per wafer. Defect limited yield modeling incorporates state-of-the-art techniques that earned Wright Williams & Kelly, Inc. a leadership role in the Defect Reduction Technical Working Group for the International Technology Roadmap for Semiconductors (ITRS). Enhancements for exposure processes make it simple and fast to evaluate the impact of changes in parameters, such as alignment strategy, exposure energy, and resist sensitivity.
Calculate throughput, exposure time, and die/wafer for exposure systems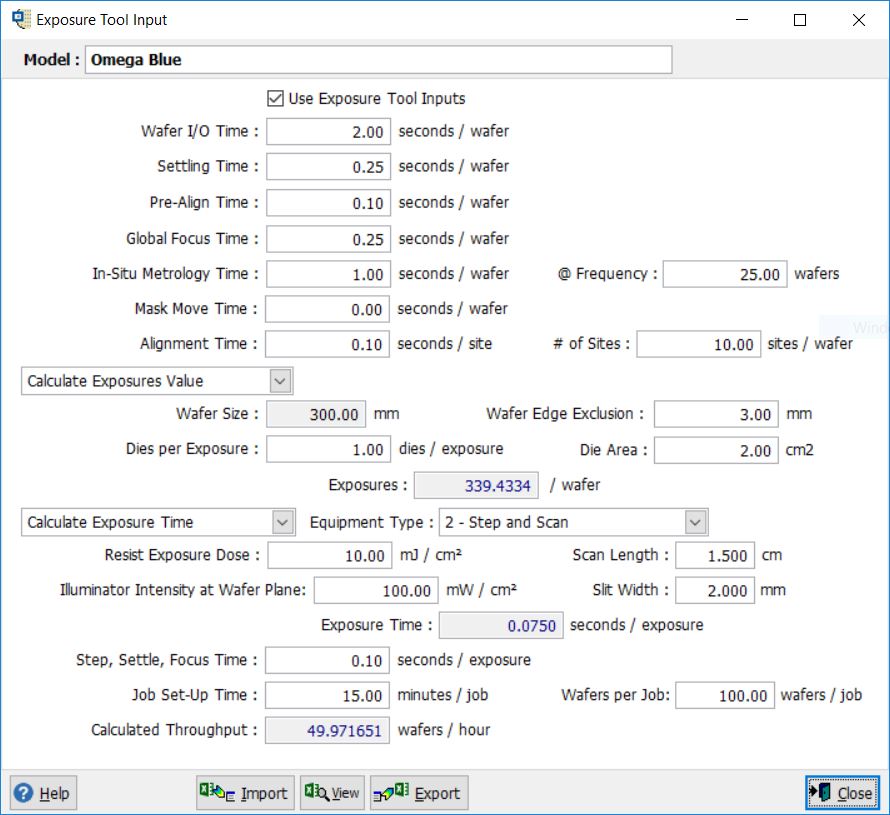 ASSEMBLY & PACKAGING
TWO COOL® for Assembly & Packaging provides applications specific data input for semiconductor back-end processes including integrated wire bonder capacity calculations. The A&P manufacturing type utilizes the same customizable user interface as the wafer fab mode, thus eliminating any learning curve issues for manufacturers implementing TWO COOL® in both front-end and back-end facilities.
Designed by industry leading assembly and packaging experts, TWO COOL® puts COO and OEE into terms you use every day. You no longer need to adapt wafer fab models to approximate back-end environments.
Wire Bonder throughput calculated from fundamental specifications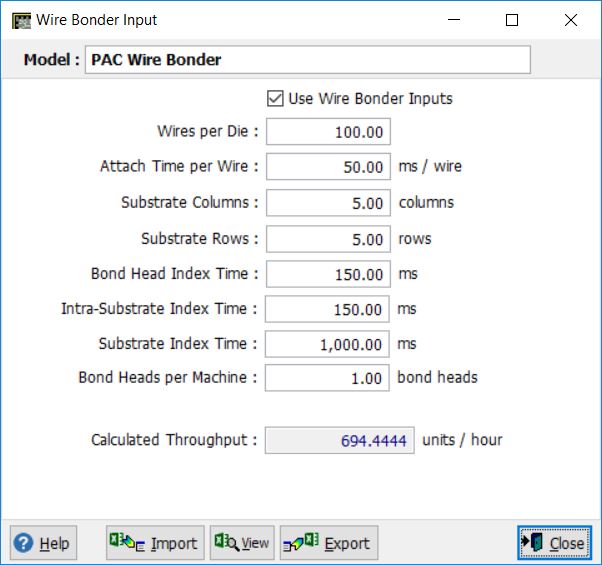 MASK MANUFACTURING
TWO COOL® for Mask Manufacturing was developed at the request of the semiconductor industry's leading advanced photomask research organizations. Given the shorter process flows in photomask manufacturing, TWO COOL®, in combination with PRO COOL® for Process Sequences, provides a simple to use modeling environment to determine total reticle and photomask product costs from blank cleaning to writing, develop, etch, strip, inspection, final clean, and pelliclization.
BOARD MANUFACTURING
The Board Manufacturing type in TC4 was designed in conjunction with one of the world's leading suppliers of surface mount technology equipment. As other industries have emulated the management systems of the semiconductor industry, TWO COOL® has kept pace. Rapid change and large capital investments require standardized productivity and cost measurement and management.
PANEL MANUFACTURING
The Panel Manufacturing model was created to support both Flat Panel Display (FPD) and Solar Panel (PV) manufacturing. In both cases, pricing pressure and extreme competition have placed significant margin pressure on these manufacturers. As a result, these rapidly growing industries look to TWO COOL® as their standard approach to COO and OEE.
ADDITIONAL APPLICATIONS
TWO COOL® has supported many diverse efforts, from disk media and silicon manufacturing to food processing and fleet replacement analysis. COO is a powerful technique and with the introduction of TWO COOL®'s user defined manufacturing type, the user can now customize TWO COOL® to any industry and application.
TWO COOL® is supported by the world's leading operational modeling software and services provider, Wright Williams & Kelly, Inc. Whether you need a software solution or a staff of on-site manufacturing experts, we provide the most cost-effective approach to solving your business challenges.
From COO and OEE to full factory analysis, only Wright Williams & Kelly, Inc. offers a full range of solutions. Start increasing your profits today. We'll make sure you measure up.
Call today for more information from Wright Williams & Kelly, Inc. Providing business solutions for productivity and cost management since 1991.